Metal Studio Jewelry Chiang Mai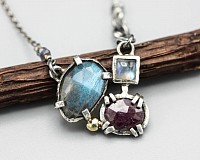 Hand crafted contemporary silver and gemstone jewelry
By Sirilak Samanasak
Since 2010
Each piece of jewelry in the shop is hand crafted by Sirilak Samanasak using a variety of metals and precious gemstones. Common materials include silver, brass, gold, bronze and vermeil. We have a wide range of gemstones in stock including opal, druzy, ruby, sapphire, labradorite and rainbow moonstone. In the studio, silver and gold are seamlessly mated to the precious and semi precious gemstones to create stunning works of wearable jewelry art. 
All jewelry is hand crafted in Chiang Mai, Thailand.
Sirilak Samanasak "Boom" is keeping the traditions of jewellery production alive and giving it a modern context. 
The history of jewelry and gemstone production in Chiang Mai, Thailand, is a tale of exquisite craftsmanship and abundant natural resources. The region has long been renowned for its skilled artisans who create stunning pieces of jewelry using various materials, including silver and gemstones. Chiang Mai's jewelry industry particularly stands out for its exceptional work with gemstones such as sapphires and rubies. The city's skilled craftsmen have mastered the art of cutting, shaping, and setting these precious stones to create dazzling pieces of jewelry that showcase their brilliance and allure. With a legacy deeply rooted in traditional techniques and a deep appreciation for the beauty of gemstones, Chiang Mai continues to be a hub for the production of exquisite jewelry that captures the essence of the region's rich cultural heritage.

The Metal Studio Jewelry Concept
Metal Studio Jewelry was started by Sirilak Samanasak as a way to share her hand crafted jewelry designs with the public. The studio is not a typical jewelry shop, it is a gallery of wearable art crafted from various metals including gold, brass, silver and combined with precious and semi precious stones. The artisan jewelry that is displayed in the studio can be purchased but you are more than welcome to come in and take a look at how things work and how this type of jewelry is made even if you are not necessarily looking for a piece of jewelry. Sirilak Samanasak will be more than happy to show you around and show you the process behind making the jewelry when she is in the shop. 

Opening Hours
Chiang Moi ~ Main Branch

Open: 
Monday-Fri                  9:30am - 5:00pm        
Sat                               9:30am - 5:00pm  
Sun                              Closed
Private consultation with Sirilak Samanasak is also possible if you are looking for custom jewelry or wholesale jewellery orders. Please click the link below if you would like to set up a consultation with Sirilak. 
For private consultation, please contact us directly.
Metal Studio Jewelry (Flagship Store and Studio)
237 Chang Moi Road, Chang moi
Muang Chiang Mai, 50300
Phone: 053 214 806


For questions or comments or to book a private consultation with Sirilak Samanasak please fill out the form to contact us directly.