Customer Reviews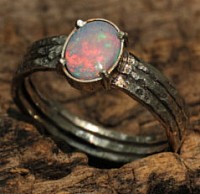 Ethiopian opal ring with silver band
Customer Reviews for Metal Studio Jewelry
Metal Studio and Boom are AMAZING! Really helped a lot with my situation, and resizing and accommodating me in every way. :D
Alexander S, July 20, 2015
__
10 Stars! Metal Studio is one of the top shops on ETSY. I am a returning customer. The designs are unique and stunning. The gemstones are top rate, The workmanship is remarkable. This is a must place to buy jewelry.
Puss, April, 2018
___
Love your work, so beautiful. I have purchased several items from your shop and I have completely thrilled each time!
Monica, March 2018
___
Absolutely magical! The most gorgeous and unique piece of custom jewelry I own. I literally haven't taken it off! Boom provided extremely stellar customer service, and worked off of my ideas to come up with this one of a kind design! She is talented, professional, and a joy to work with! I will be a loyal customer for life!
MS, January 2018
___
I can't say enough wonderful things about this ring! The Druzy stone is large and just shimmers in the light. The bottom of the ring has a intricate etched sterling silver half fan. This is a beautiful ring! I just ordered a second piece from Boom, a necklace, which will complement the ring. Boom is also a very nice person to deal with. Thank you, Boom!
Theressa, December 2017
___
This necklace is amazing! So much more beautiful in person. The labradorite is stunning. Beautiful oxidized silver accenting this piece. It's a show stopping piece. I had compliments on it the first day I wore it. Boom does fabulous work. She's a true artist.
Laura, March 2017
__
Beautiful work. Boom really backs her pieces and goes the extra mile to please her customers.
Colleen, March 2017
__
I was blown away when I opened the box and saw these earrings. They are so cool, just like the moonstone necklace I purchased. The picture of this necklace does not do it justice. The moonstone is so much more vibrant and beautiful in person. The leather is very sturdy, not flimsy or cheap. Boom's creativity, artistry and workmanship is phenomenal! I wouldn't hesitate to purchase anything from Boom. I know I'll receive a unique, one of a kind treasure every time. And, yes, I've already purchased something else and those items too were fantastically beautiful!
Laura, March 2017
__
My first time having a custom order from Boom and she has proved to be one of the best jewelry maker in Thailand! I wanted a moonstone ring that's more subtle so I could also wear it with other rings. The result turned out lovelier than I've imagined and you could see how pretty the moonstone is. Thank you for making my wish come true!
Quan, Jan 2017
__
Boom is wonderful. So talented and provides excellent customer service. She aims to please her customers and is very communicative and professional. Quick international shipping as well.
Karyn, September 2016
__
Lovely to deal with. Thank you!!
The bracelet Boom custom designed for me is stunning. I had a general idea of what I wanted and she brought it to life with her own vision in 18k gold and oxidized silver. The piece came quickly and the quality of the gold and silver and the craftmanship was evident. In addition, Boom was very communicative during the design process and provided excellent customer service even after the transaction was complete.
Pragnasori, March 31, 2015
__
The stone is one of the most beautiful I've ever seen. Great setting, absolutely lovely. Thank you!!!
Maria C, December 31, 2015
__
"Brilliant custom made rings for my wife and I. The communication with the jeweller was fast and professional. Shipping was excellent and the rings were wonderful. We were sent photos before shipping and the rings looked great. When the rings arrived they were amazing. The build quality is fantastic and I know we will be wearing these rings for a very long time. Great vendor and very professional products & service. Highly recommended!"
David, September 30, 2014
__
"The stone is one of the most beautiful I've ever seen. Great setting, absolutely lovely. Thank you!!!"
Maria, December 31, 2014
___