How to Care for Your Silver Jewelry
Learn to care for your silver jewelry
Your jewelry deservers love and care. If you care for your jewelry properly it will give you a life time of appreciation and pleasure.
Here are some little tips to care for your jewelry properly.
Put jewelry on after using perfumes and scented beauty products. Give the perfumes a chance to dry before wearing your jewelry. Perfumes can be very hard on jewelry and wet perfumes will tarnish silver very quickly.
Silver is a very soft metal. Avoid wearing your jewelry when doing activities that could be hard on it. Remove your jewelry when doing sports or outdoor activities such as gardening. The silver will stay looking new much longer.
When storing jewelry in a jewelry box, put each individual piece into a small plastic bag. Small zip lock bags work great for this. This will prevent jewelry from becoming damaged by rubbing against other pieces of jewelry as well as preventing tarnish from the air. If you would like a small bag included with your Metal Studio purchase, please just ask us at the time of purchase.
Tips on restoring your jewelry to its original shine
You can keep your jewelry bright and shiny by dipping it in lime or lemon juice for 5 minutes. Then brush your jewelry with a soft brush and rinse it with a light solution of soap and water. Give the jewelry a final rinse in pure water and it will look shiny and new.
A silver polishing cloth is a very handy thing to keep in your jewelry box. A light rubbing with this cloth with bring back the shine to the silver.
Most importantly
Enjoy and love your jewelry and let it bring a smile to your face every time you open your jewelry box and put it on.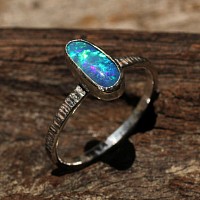 Metal Studio Australian Opal Ring
Care of Opal Gemstones
Opals are stunning gemstones with a fire that moves through the gemstone as the light source changes. This fire ranges from deep blues and greens in Australian opals to deep reds oranges yellows with hints of green and blue in Ethiopian opals.
Metal Studio stocks a selection of both Australian and Ethiopian opals and loose opals ready for custom design ideas.
Care for Opals
Opals are an extremely soft gemstone and can easily be chipped and damaged if they are treated roughly. It is especially important to be gently with opal jewelery. Remove opal jewelery before doing any kind of manual labour where the opal could be exposed to knocks or scratches.
Opals are also sensitive to the surrounding environment. Opals which change opacity and color combinations depending on the humidity. All opals in the Metal Studio online store are sold as pictured but may look different than the photos due to changes in humidity.
It is often recommend that opals be stored in a glass of water. In the case of opal doublets this can actually damage the backing. Solid opals will not be damaged by storing them in water but it is not necessary to store them in water.
In extremely dry conditions a small cup of water can be stored with the opal to prevent exposure to the extremes.
Jewelry Repair in Chiang Mai
All Metal Studio Jewelry is backed by a lifetime warranty if your jewelry ever breaks or is in need of repair we will happily take care of the repairs at no cost.
Exceptions include lost or broken gemstones or damage that needs additional precious metal (gold) to complete the repair. These will incur an additional cost for the material price needed for replacement but there will be no cost for labour.
We are also happy provide jewlery repair services for jewelry purchased elsewhere. However we recommend contacting the original manufacturer of the piece prior to contacting us because they often provide their own repair services under warranty. Please
contact us
or bring your jewelry for repair to our
nearest location
. In most cases jewelry can be repaired within 48 hours of leaving it with us.
Examples of jewelry repair services we offer
Resetting of gemstones
Reworking of jewelry into new designs
Cleaning of jewelry and engagement rings
Restringing of beads
Repair or replacement of necklace and bracelet closures
Re-plating of gold or silver jewelry including white gold / rose gold
Jewelry engraving services