Metal Studio Jewelry Blog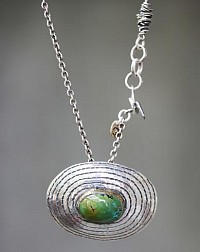 Silver pendant with bezel set green turquoise gemstone
12. December ~ Zircon, Tanzanite and Turquoise
While Metal Studio Jewelry does not typically have zircon one tanzanite jewelry in stock we do have some loose gemstones and if you have your heart set on a piece of zircon or tanzanite jewelry we would be happy to talk to you about a custom design.
--> Click here to contact us in regards to creating a one off piece of bespoke jewelry
We do however have a large selection of turquoise gemstones and jewelry. Turquoise is a gemstone that has been used for jewelry and decoration for thousands of year. Its unique deep blue to green hue makes it very easy to identify. Turquoise is often associated with the deposits in the American South and was commonly used as a gemstone and decoration prior to Spanish arrival. It continues to be popular in the American South West today. However Turquoise is not limited to American deposits and is also found in abundance in Tibet and is commonly used in Tibetan and high Himalayan cultures and traditions. In recent years closures of many of the most prolific American Turquoise mines have caused the price of American Turquoise to skyrocket.
--> Click here to visit the turquoise section of Metal Studio Jewelry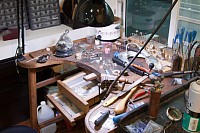 Boom's jewelry crafting table
6 things to know about handmade jewelry
At Metal Studio Jewelry every piece on the shelf is handmade from start to finish. Here are 6 things you might not have though about when deciding on a piece of handcrafted jewelry.
1. You are supporting real people
Metal Studio Jewelry is handcrafted by jewelry designer Sirilak Samanasak. She was born and raised in Chiang Mai and her inspiration comes from the art and culture of Chiang Mai. But there is a whole team of people that make Metal Studio possible. Not only do you get an amazing piece of wearable art but you also get a connection to a real person and a great way token of your time in Chiang Mai. Every time you put on a piece of handmade jewelry it tells a story of the people behind it.
2. These are not mass produced pieces
Every single piece of jewelry at Metal Studio Jewelry is handcrafted and one of a kind. Much of the jewlery produced today is produced by machine or cast in large runs from a master piece in order to produce the most cost effective jewelry possible. Handcrafted jewelry is a time consuming process that creates one of a kind pieces of jewelry. Purchasing a piece of jewelry from a studio jewelry artist ensures you are getting something unique. No two pieces are the same.
3. Pride
Every piece of handmade jewelry is a reflection of its maker. They put their time, energy, love and attention to detail into every piece they make. It is a reflection of themselves and speaks worlds about who they are as a person. The quality of each piece of jewelry is higher than it would be with mass produced jewelry.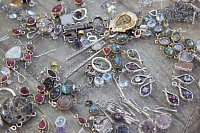 Components waiting assembly into final pieces of jewelry
4. Designers expertise
With handcrafted jewelry you benefit from the designer's expertise. Boom has been designing jewelry for nearly two decades. She has worked in some of the top fashion houses in the UK as a gemstone and jewelry purchaser and consultant. Every single stone that she uses is hand selected ensuring that you are getting the best gemstones possible for your jewelry. The jewelry is also crafted using time tested techniques. You benefit from the artists experience when you purchase a piece of handcrafted jewelry.
5. Ethically crafted and sustainable
Metal Studio Jewelry is dedicated to producing ethically crafted jewelry in a sustainable fashion. While mass produced jewelry often focuses on producing jewelry in a way that minimizes costs and maximizes profits the jewelry produced by Boom focuses on ethical sourcing and production in a way that minimizes damage to the planet. Gemstones are hand selected not only for their beauty but also for being ethically sourced and produced in a safe and fair work environment. We have a personal relationship with all our gemstone dealers and producers and regular visit their factories to be sure that their people are being treated fairly.
6. Locally crafted
Each piece of Metal Studio Jewelry is produced in our Chiang Mai jewelry studio. In a way you are getting a little piece of the culture and traditions of Chiang Mai in each piece of jewelry. Handmade jewelry makes a perfect reminder of a perfect trip.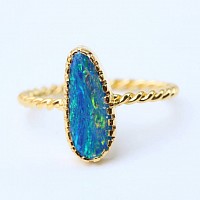 18k gold twist band ring with Australian opal
Another lot of these stunning 18k gold twist band rings set with hand selected Australian opal gemstones is now in stock. Metal Studio made a few of these at the end of 2016 and they sold out very quickly. These make a perfect alternative engagement ring for couples that are looking for a piece of jewelry that is both unique and hand made and represents their love. These stunning rings wont last long so come by Metal Studio Jewelry in Chaing Mai and have a look. We can do sizing on all rings so if you find the perfect ring but its not the right size please just let us know and we can do a custom sizing.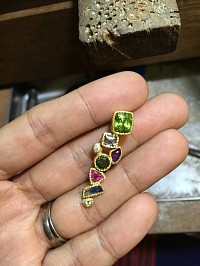 The final product is a pendant that is crafted from 22k gold with gemstone set to represent each of the family members. Boom also added a few small diamonds set into droplets of gold in order to fill out the pendant and create a more unique and uniform design on the final piece of jewelry.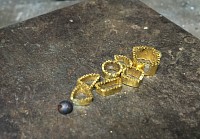 A while back a close friend asked Boom to craft a necklace that would be given to his wife to celebrate the birth of their second daughter. Boom came up with the idea that the family could be represented by birthstones set into stunning solid 22k gold settings. Boom individually selected each of the gemstones that would go into the necklace. She then made a trip to her gold supplier and purchased a large bar of pure 24k gold. Generally Metal Studio does not work with 24k gold because it is too soft for long wearing jewelry. Boom melted the bar down and mixed it with trace hardening metals in order to come up with 22k gold for the final gemstone settings and wire for the necklace.
This was a fun ring requested by a customer recently. The gemstone was brought into Metal Studio by a customer that wanted to have it set in silver. It was a huge gemstone with oddly shaped ends so Boom thought that a large bezel setting was what would be in order. The design features highly textured silver that has been deeply oxidized to give a very industrial looking piece of jewelry.